My newest cinematic obsession:
Cactus Flower
.
I'd caught pieces of this one way back when [in the days that I had access to cable], but it wasn't until last night's Netflix viewing that I was able to appreciate the whole zany start-to-finish experience.
I love most Goldie Hawn movies, but particularly those from her early days. Not only are her characters adorably free spirited, but her clothing is amazing. Standing at a diminutive 5'2", I'm a fan of the mini dress, and in the 60's Goldie was the mini queen.
Here are some of my favorite leg flashers from Cactus Flower [excuse the screen cap quality, I only recently lost my Ctrl + Prnt Scrn virginity and I'm still a bit of an amateur]:
From the very first scene, this costume captures my heart. First of all, it's pink [I've become such a girly cliche, but I'm okay with it]. Even better, it's also short and pleated and ruffly, my other fashion favorites.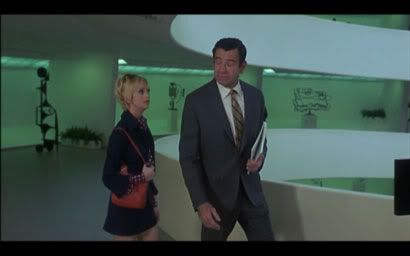 This jacket/scarf combo is another aesthetic I'm starting to love. Moving to the Windy City, I'm learning to appreciate the value of cute outerwear. And I love that this jacket clearly isn't even the length of an average dress, yet there's nothing else underneath.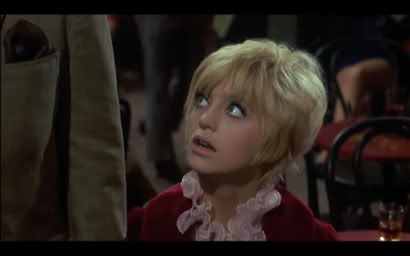 I wish I was talented enough to have gotten a decent full-length shot of this scene. It's another short jacket/no pants combo, but with an adorably tailored flair. And have I mentioned ruffles?
Now if you'll excuse me, I must get back to my Netflix...I might miss a mini.