J'adore my friends.
The following was a goodbye gift from my bestest
Miss Kiley K.
given to me during a farewell feast for two last weekend.
Crafty little minx, isn't she?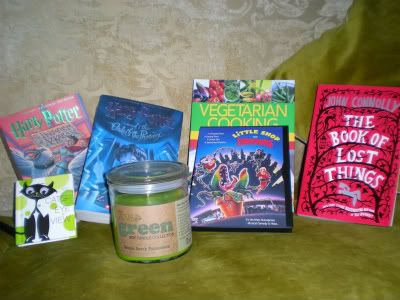 Gift Explanations:
*
Harry Potter 3 & 5
-A true addict turned pusher, Kiley recently turned me on to Harry by loaning and/or giving me a few books at a time [hardcovers she wanted back, paperbacks were for keeps due to her ownership of multiple copies...told you she was an addict]. I had just returned an unfinished book 3 to her that night, now I can continue reading.
*
The Book of Lost Things
-Yet another addiction being pushed on me, but rather willingly. Supposedly this book contains everything fairy tale lovers like she and I hope for and more...we shall see.
*
Vegetarian Cookbook
-No, Kiley is not a veg head. This is simply an addiction of my own that she has decided to become an enabler for...and amazingly it is the first cookbook of its kind in my collection.
*
Green Apple Soy Candle
-It's soy and that's environmentally friendly, need I say more?
*
Little Shop of Horrors
-This is perhaps my favorite in the collection. Kiley and I first became friends while portraying the Skidettes/DuWop girls of Skid Row at FC so this has a very special double meaning. ♥
*
The Cat's-Eye View
-We're crazy cat ladies together. That's really all you need to know.
Love you, Ki. :)