It's been just over a week and I'm in love...
in love with Chicago,
in love with the El train ride,
in love with my little home.

And since I finished hanging posters and paintings today, I figured I'd give you a glimpse into my Chitown haven:

Color-coded cinema. :) [who knew so many DVD's were white?]
Yes, those are shoes. They're not very comfortable to wear, but they make for interesting decor.
I have lots of scarves, why not make a mini curtain?
This theater shows mostly old hollywood films and new cult classics.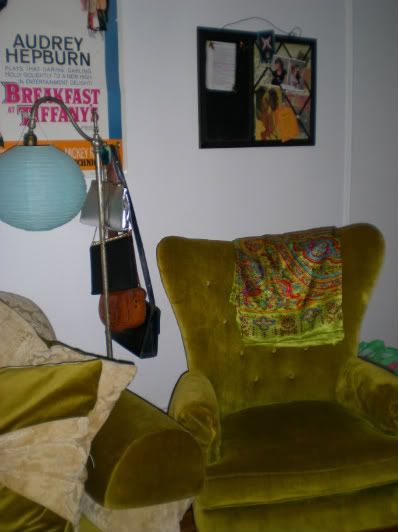 Notice the massive collection of vintage purses that I never wear.
My little reading/music nook. ♥
Hallway view. [Excuse the laundry.]
Walk-in closet! ;)
Tiny bathroom filled with pink.
Canvas-covered hallway.
and finally*, where I lay my head [at either end].
*There's also a kitchen at the other end of this
room, but in order to capture it's image properly I would have had to do dishes
...perhaps another day. :)