Ever since I handed in my resignation letter Wednesday of last week [technically I gave two and a half weeks notice], I've been mulling over the idea of extreme budgeting.
Anyone familiar with my WUNT articles knows I'm a fan of self-experimentation. If a curious thought crosses my mind I research, I analyze, and then I usually try it out for myself. After all, experience is the best learning tool. So, in the face of potential unemployment, I've been pondering just how far I can stretch my measly dollars.
On a normal basis, I'm actually rather frugal with my spending, but over the past few months there is one thing that I've splurged on: groceries. I love good food too much to sacrifice my taste buds for my budget. While, even on a budget, I still plan to buy the same quality of foods [vegan, organic, fresh produce, etc.] I've now resolved to see how long I can go between grocery trips.
Normally, I make about two grocery-related trips to Target a week. These are usually only about $20 spending sprees, but I still have other perfectly edible food in my pantry when I go. I'm an impulse eater and I buy whatever I'm craving in bulk while the rest of my food stock remains untouched. I have canned veggies that have been in my cabinets since I moved here a year ago and items in my freezer that pile up unused while I go thru toaster waffles by the box. My plan: to eat as much as I can stand of this untouched food supply before stocking up again. Things may need to get creative.
Tonight, having no particular cravings and feeling a bit bored, I decided to see what I could make with what I had stored away in cabinets and coolers. As always when I'm in the mood for food prep, I turn to RachaelRay.com and found the following Asian-inspired recipe:
Peanut Butter Sesame Noodles
2 teaspoons natural style
creamy peanut butter
1 tablespoon
honey
2 tablespoons Tamari (dark
soy sauce
), eyeball it
1 teaspoon sesame oil (eyeball it)
1 teaspoon ground ginger or 1 inch of fresh ginger, peeled and grated
1/4 pound
whole wheat spaghetti
1 tablespoon light sesame seeds, toasted over medium-low heat for 3 minutes (optional)
Shredded carrots, scallions, bean sprouts or other
veggies
(optional)
Preparation: In a medium microwaveable bowl, heat the peanut butter in the microwave oven until melted, about 15-20 seconds (or heat peanut butter over low heat on the stove until mushy).
Whisk honey and Tamari into the peanut butter, then whisk in the sesame oil and the ginger.
Toss the spaghetti with the sauce, and top with the sesame seeds and veggies.
I have peanut butter. I have spaghetti. I have honey. But the only soy sauce I have is a stray takeout packet that probably doesn't equal 2 tablespoons and the closest veggie on hand is red bell pepper.
I decide to go for it anyway.
Here's what I came up with: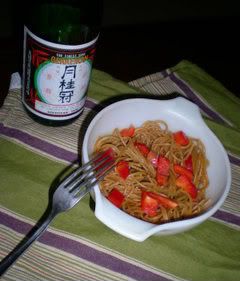 While it didn't taste
bad
, peanut butter and pepper don't exactly go well together.
That's when I remembered I had a bag of peas in the freezer...
...much better. And to make it even cuter, the left overs now sit in my fridge in an actual takeout bowl I saved from a previous Chinese night.
And now for a
job search update
:
I've always believed that things happen to you exactly when they are supposed to. Earlier this evening, my cousin called me and randomly asked if I'd be available to come clean their house/watch their kids/run general errands for them on Saturdays for a bit of extra money. She was hesitant at first because she thought I'd be insulted to be offered a glorified baby-sitting job at 24, but right now it's just what I want.
And here's the real kicker: she didn't even know I'd put in my two weeks.
So now I have Saturday employment down for the next few months. I just have to figure out what to charge. Suggestions?
And of course, come July there's always the possibility that
this
will be my job. I plan on applying and then trying to forget about it. You can't bank on something that fantastic, but you can't disregard it either. I mean SOMEONE has to get it, right? :)