For those of you who don't already know, today marked the official start of my last two weeks at Reeves. Last week, I took a leap of faith and put in my notice at a job that not only barely pays my rent, but that also does nothing to fulfill my creative desires.
Ideally, I'm hoping to find a job in the fields of writing or design, but my professional experiences in both areas are still in their infancy. At the very least, I'd like to find a job with a schedule that allows for me to pursue these careers outside of my work hours. And if I get desperate, I can always wait tables...even that sounds more fulfilling than my current position.
Tonight's assignment on the job front
: re-vamping the resume.
I decided to askew the formal guidelines slightly in the hopes of creating something a little more noticeable. Here's what I came up with [minus the personal info for safety's sake, of course]: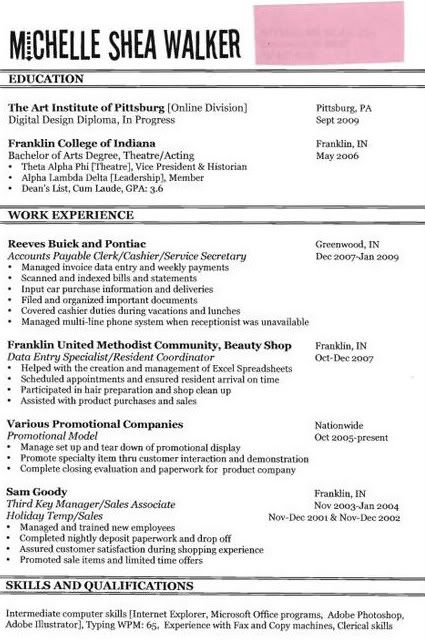 Note: this is a general resume for office or clerical work. Thoughts?
Next I might try tackling something with a writing theme. Though that one will be a bit sparse.

Question for my writer friends: any ideas to bulk up what could potentially be a two-line resume without having to rely on publishing?
Tomorrow's task:
getting it all online and making phone calls.
[Today's tasks also included an unanswered call for a beauty shop receptionist, but there's more on the list for tomorrow.]